Mengapa memilih Omron?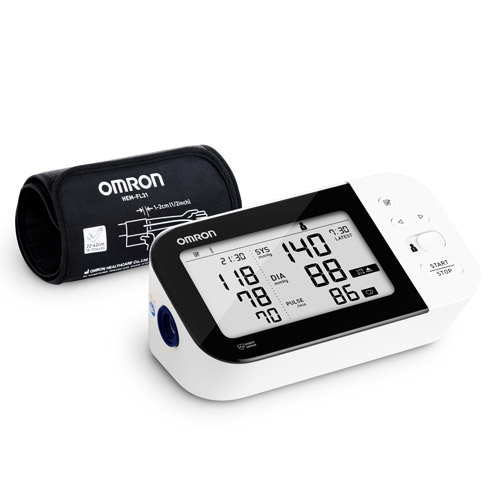 Back to Products
Semua Produk Divalidasi Secara Klinis

Kami memastikan bahwa 100% Monitor Tekanan Darah Omron divalidasi secara klinis dan memenuhi standar akurasi pengukuran dari organisasi terpercaya seperti AAMI (Association for the Advancement of Medical Instrumentation) atau ESH (European Society of Hypertension).

Teknologi Intellisense® untuk Kenyamanan & Akurasi

Teknologi Intellisense® yang tersedia di semua Monitor Tekanan Darah Omron, akan memompa manset secara otomatis hingga mencapai tingkat yang ideal dalam setiap penggunaannya. Teknologi ini memberikan Keakuratan, Kenyamanan, dan Kemudahan dalam Penggunaan.

Merek Terpercaya dari Jepang dengan Pengalaman Lebih dari 50-Tahun dalam Monitor Tekanan Darah di Rumah

Monitor tekanan darah kami tersedia di lebih dari 130 negara dan dipercaya di seluruh dunia oleh jutaan pasien dan profesional kesehatan. Kami menawarkan berbagai macam produk untuk memenuhi semua kebutuhan Anda dan terus berinovasi dan menjadi solusi terbaik di bidang perawatan kesehatan jantung.
Apa itu Validasi Klinis?
Bagaimana kita tahu jika monitor tekanan darah (BPM) akurat? Jaminan terbaik untuk keakuratan BPM adalah Validasi Klinis.
BPM (Monitor Tekanan Darah) yang Divalidasi Secara Klinis adalah yang telah dievaluasi oleh organisasi independen dan diuji serta memenuhi persyaratan ketat seperti yang ditetapkan oleh organisasi internasional seperti European Society for Hypertension (ESH) dan Association for the Advancement of Medical Instrumentation Standard (AAMI).
Type
Product Models ^
Clinically Validated According to Standards of
Equivalence
Certificate
Clinical Study
Association for the Advancement of Medical Instrumentation Standard (AAMI)
European Society of Hypertension International Protocol (ESH)
Upper Arm Blood Pressure Monitor
HEM-7120-AP
✔
✔
2
B
HEM-7120-IN
✔
✔
3
B
HEM-7121-AP
✔
✔
2
B
HEM-7121-IN
✔
✔
3
B
HEM-7121-AU
✔
4
C
HEM-7124-IN
✔
✔
3
B
HEM-7140T1-AP
✔
25
H
HEM-7141T1-AP
✔
25
H
HEM-7142T1-AP
✔
25
H
HEM-7143T1-AP
✔
25
H
HEM-7144T1-AU
✔
23
H
HEM-8712-AP
✔
✔
2
B
HEM-8712-IN
✔
✔
3
B
HEM-7123-AP3 (JPN500)
✔
5
C
HEM-7131-AP3 (JPN600)
✔
9
C
HEM-7155T-AP
✔
✔
24
C, G
HEM-7156T-AP/AAP
✔
✔
24
C, G
HEM-7156-AP/AAP
✔
✔
22
C, G
HEM-7361T-AP
✔
✔
22
C, G
HEM-7280T-AP
✔
14
C
HEM-7600T-AP3
✔
1
A
Wrist Blood Pressure Monitor
HEM-6221-AP
✔
15
D
HEM-6121-AP
✔
16
D
HEM-6131-AP
✔
17
D
HEM-6232T-AP
✔
✔
18
E
HEM-6161-AP
✔
✔
19
E
HEM-6181-AP
✔
✔
20
E
Professional Blood Pressure Monitor
HEM-9200T
✔
21
C
HEM-9210T
✔
F