Why Choose Omron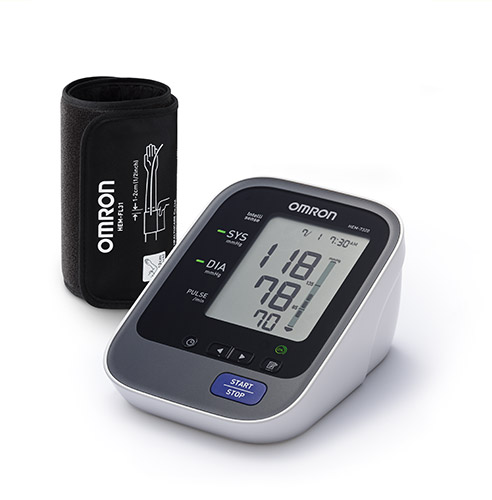 Back to Products
All Products are Clinically Validated

We ensure 100% Omron Blood Pressure Monitors are clinically validated and meet the highest standards of precision and reliability from trusted organisations such as AAMI or ESH.

Intellisense® Technology for Comfort & Accuracy

Intellisense®, available in all Omron Blood Pressure Monitors, can automatically personalise the cuff inflation just for you to ensure no pain and discomfort during measurement.

Trusted Brand from Japan with Over 45-Years Experience on Home Blood Pressure Monitors

Our blood pressure monitors are available in more than 110 countries and trusted worldwide by millions of patients and healthcare professionals. We offer a wide range of products to suit all your needs and keep innovating the best technology and solution in heart healthcare field.
What is Clinical Validation?
How do we know if a blood pressure monitor (BPM) is accurate? The best assurance for accuracy of a BPM is Clinical Validation.
A Clinically Validated BPM is one which has been evaluated by an independent organisation and tested against as well as met the stringent requirements as set out by international organisations such as Association for the Advancement of Medical Instrumentation Standard (AAMI) and European Society for Hypertension (ESH).
Type
Product Models
Clinically Validated According to Standards of
Equivalence
Certificate
Clinical Study
Association for the Advancement of Medical Instrumentation Standard (AAMI)
European Society of Hypertension International Protocol (ESH)
Upper Arm Blood Pressure Monitor
HEM-7120-AP
✔
✔
2
B
HEM-7120-IN
✔
✔
3
B
HEM-7121-AP
✔
✔
2
B
HEM-7121-IN
✔
✔
3
B
HEM-7121-AU
✔
4
C
HEM-7124-IN
✔
✔
3
B
HEM-8712-AP
✔
✔
2
B
HEM-8712-IN
✔
✔
3
B
HEM-7123-AP3 (JPN500)
✔
5
C
HEM-7130-TH
✔
✔
6
B
HEM-7130-AP
✔
✔
7
B
HEM-7130-AU
✔
8
C
HEM-7130-LAP
✔
7
C
HEM-7130-LIN
✔
9
C
HEM-7131-AP3 (JPN 600)
✔
9
C
HEM-7270-AP
✔
10
C
HEM-7270-IN
✔
10
C
HEM-7320-AP
✔
✔
11
B
HEM-7320-AU
✔
12
C
HEM-7322-AP
✔
✔
7
B
HEM-7322-AU
✔
✔
13
B
HEM-7280T-AP
✔
14
C
HEM-7600T-AP3
✔
✔
1
A
Wrist Blood Pressure Monitor
HEM-6221-AP
✔
15
D
HEM-6121-AP
✔
16
D
HEM-6131-AP
✔
17
D
HEM-6232T-AP
✔
18
E
HEM-6161-AP
✔
19
E
HEM-6181-AP
✔
20
E
Professional Blood Pressure Monitor
HEM-9200T
✔
21
C
HEM-9210T
✔
F