Frequently Asked Questions
Where do I send my Omron unit for repair?
Please visit Omron Service Centre for servicing and repair. Find the nearest authorised service center to you here.
Is it chargeable if I send my Omron Blood Pressure Monitor unit for calibration/accuracy check?
Omron Automatic Blood Pressure Monitors do not require calibration. It is generally recommended to have the device inspected every 2 years to ensure correct functioning and accuracy. There will be no charge if within the warranty period. A service fee will apply if the product is no longer covered by the warranty.
I bought an Omron device from overseas. Is this covered under Philippines warranty?
Omron devices are covered by local warranty only. We will not be able to support warranty for products purchased overseas or unauthorised local online resellers.
How do I identify the serial numbers on Omron's products?
Omron's product serial numbers are located in two places: On the original packaging and the rating label at the bottom side of the product.
SN: / Serial No. is usually printed in front of the serial number. The serial number typically starts with numbers and end with 1 or 2 letters e.g. 20190807214VG or start with E (for TH-839S thermometer).
Please refer to the images below for the example in various categories.

Blood Pressure Monitor:




Nebulizer: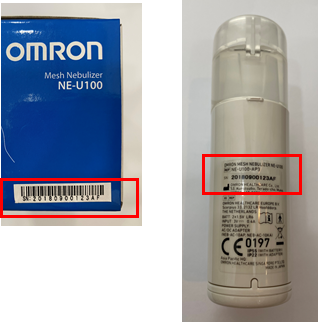 Thermometer: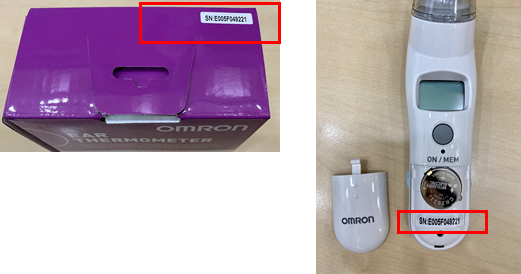 Body Composition Monitor: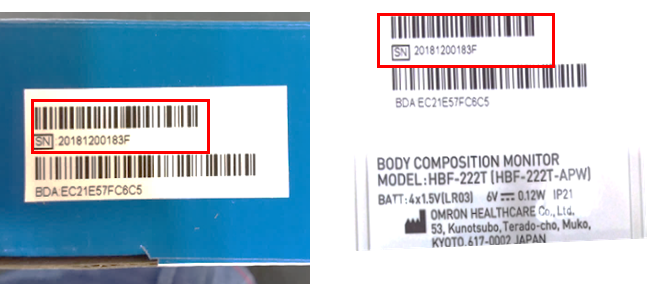 TENS Device: